The director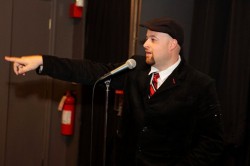 I'm Steve Villeneuve from Montreal, Canada and I'm the co-owner of DiggerFilms. For the last 10 years I've been making films, both short and long and both fiction and documentary. In 2010, my first documentary titled Under the Scares, finally came out. The primary goal of the documentary was to help young filmmakers in their quest to make good movies without throwing their money away by giving them access to advice and insights from other indie filmmakers. The film won 2 awards for best documentary and was screened in more than 15 festivals. Through the years, I've worked on many short films, including The Hit (2009) and Dead Pussy (2011) with director William Dio, that won us 5 awards while both films were selected for festivals around the globe. In 2011, we put a short film on YouTube titled The Mask of James Henry which has been seen more then 70 000 times….
… But I'm not only a filmmaker, I'm also an Evil Dead fan and collector. I started my collection only a year and a half ago but it is growing at an incredible pace and to this day, I own more then a combined total of 60 different versions of the films of the Evil Dead series: VHS, DVD, HD DVD, Blu-ray, laser disc, Beta. Name it, I have it.
A couple of months ago, I was looking at my collection and thought : "Wow, in less than two years, I have managed to build a collection this large. I wonder how big would the collection of a fan who's been doing it for 5,10,15 years be?!"
One thing led to another and I decided to combine my 2 passions and make a movie out of it! My goal however, is to not make a documentary about The Evil Dead itself but to make a documentary about you, the fans, the Deadites! I think that if you are like me, you will love this project because what we want to do here is a documentary for the fans with the fans.
Hope you enjoy the show.
Sincerely, Steve Villeneuve